Auteur : Lorna Muddiman - Publié le : 2013-05-17 09:21 -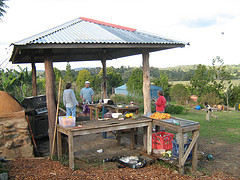 Community gardens provide fresh produce and plants as well as satisfying labour, neighbourhood improvement, sense of community and connection to the environment. They are publicly functioning in terms of ownership, access, and management, as well as typically owned in trust by local governments or not-for-profit associations.
Picture by Pip_Wilson, Creative Commons
Why start a community garden? Community gardens improve users' health through increased fresh vegetable consumption and providing a venue for exercise. The gardens also combat two forms of alienation that plague modern urban life, by bringing urban gardeners closer in touch with the source of their food, and by breaking down isolation by creating a social community. Community gardens provide other social benefits, such as the sharing of food production knowledge with the wider community and safer living spaces.
Examples
Page:

1

/

2

1
2
Aucun article.