Auteur : Malou Weirich /Lorna Muddiman - Publié le : 2013-08-21 09:21 -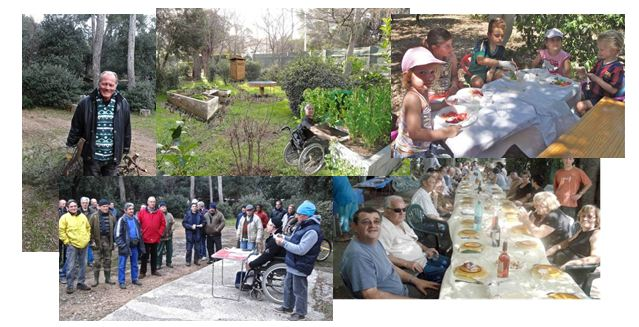 City: Marseilles, France

The Mazargues allotment gardens, situated on the Joseph Aiguier site, are part of the city of Marseille's historical heritage. The Gardens and the allotments greatly contribute to community life - facilitating a healthier environment, social inclusion, access to food and more...
Photos courtesy of Jardins Familiaux
Description
The Mazargues Gardens were created thanks to the generosity of Joseph Aiguier, who left a profound mark on this part of Marseille. In 1905, he founded the "Oeuvre des Jardins de Familles" (Allotment Garden Association).
They are the only one of their kind in France. In fact, it's the only allotment garden site that has a climatic spa, which was created to fight tuberculosis; a disease which was rife at the time of their creation. Consequently, the gardens deserve to be protected, like the Cité Radieuse of Le Corbusier.
The gardens are in the process of being graded by the Potagers de France association for their remarkable features.
Added value
With their 3.7 hectares of pinewood, these gardens provide a greenbelt for this area of the city as well as an unrivalled reserve of biodiversity in Marseille. In addition, the Gardens and the allotments contribute to community life in a number of ways:
Enable more than one hundred gardeners' families to grow a large proportion of the vegetables that they eat. The economic benefits significantly contribute towards reducing our carbon footprint and energy conservation particularly as the majority of gardeners travel by foot to their garden;
Welcome a wide range of disabled people including those with reduced mobility, and handicapped people in wheelchairs, for whom gardening is an essential activity to overcome their day-to-day hardships;
A place for training and education. Children are encouraged to learn and discover the rhythms of nature, how to work soil, plant and animals lifecycles and the real value of sustained work effort and patience. Furthermore, who better than gardeners have the opportunity to have a varied, balanced diet with at least five fruit and vegetables a day?;
The climatic spa and the Mazargues Gardens contribute to the physical and mental health of both gardeners and visitors. Numerous scientific studies have demonstrated the therapeutic value of gardening;
At a time where our society has a tendency to become fragmented, the Mazargues Gardens is one way that allows the social ties to be maintained and for cross-generational interaction to take place;
Some of the gardeners are elderly and have worked on a small plot of land for several decades. We believe that taking away this allotment garden in which they have accumulated so many memories would be to condemn them within a very short time.
Links and other sources
For more information: