Auteur : Malou Weirich/Lorna Muddiman - Publié le : 2013-08-22 08:12 -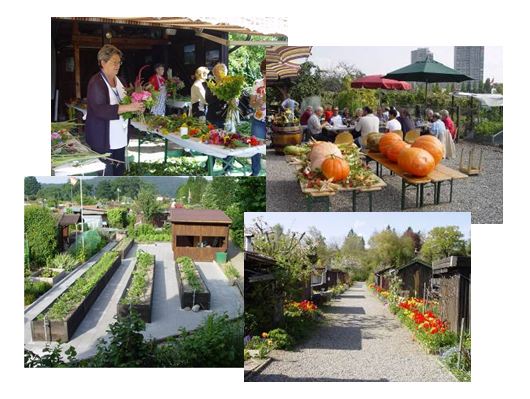 City: Bern, Switzerland

The Schweizer Familiengärtnerverband (Swiss leisure garden federation) today unifies approximately 375 leisure garden sites. In order to stimulate the co-operation with the associations and the members, the federation was divided into different regions, Bern among them.
Photos courtesy of Schweizer Familiengärtnerverband
Description
The Bern-East allotment garden association was created in 1927 and since 1977 the site has been located on "Sonnenhof", which is bordered by blocks of flats and the covered motorway. The site is located on the outskirts of the town, but the Bern railway station can be reached in fifteen minutes by tram. It is as well situated within a recreation area for walkers and cyclists, not far away from the residential areas and offers a pleasant and interesting view into the very diverse life of the allotment gardens to the many passers by.
The allotment garden site has 235 plots. Over 30% of its members come from abroad. It is a multicultural allotment garden site, where the word integration is not without meaning, but where it is lived in a very natural and evident way. In this way the association makes an important contribution to the integration of the foreign population. This element is additionally highlighted by the fact that the association has put two garden plots at the disposal of the HEKS (evangelisches Hilfswerk der Kirchen Schweiz, the help fund of the protestant churches in Switzerland). These plots are cultivated by several asylum seekers who are thus able to establish important contacts with our members, facilitating their first steps in a country where they have sought asylum.
Added value
A peaceful life together and, above all, the social element are essential features of our association and it is always open to innovative projects. For example, in the Spring of 2010, in cooperation with the horticultural service of the town and disabled organisations, a pilot project was started in the canton of Bern.
The aim was to create an allotment garden plot accessible to wheelchairs, as well as a garden shed complying with the requirements of disabled people. This project was executed in strong cooperation with the two future wheelchair dependent users. After approximately 600 hours of voluntary work by the members of the association these allotment garden plots accessible to wheelchairs could be given to the two members by the end of May 2010.
Fellowship is also very important in the association. With many activities, the association stimulates fellowship and a peaceful life together. Here are just some activities of what is an extensive yearly programme: jazz tournament, garden festival, the day of the flower, pumpkin festival, Thanksgiving day, Gnagi and pea soup festival, Christmas in the garden.
Links and other sources
For more information: