Auteur : alessandra sciurba - Publié le : 2013-04-03 08:08 -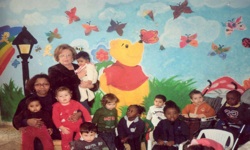 City: Palermo, Italy

An Association of women coming from many different countries and pooling their resources in the creation of a collective and self-managed educational institution designed to accommodate children aged from a few months to 12 years in the context of structural inadequacy of public services.
The idea: To overcome the lack of public services for infancy by sharing needs and pooling "care" resources.
Local context: The setting is the city of Palermo, which has 600,000 inhabitants and is characterized by a strong economic and social polarization, with significant pockets of poverty, as well as by a chronic lack of welfare services. In the city of Palermo many children from 0 to 3 years remain outside of the circuit of public schools because there are not sufficient places for them. This problem limits first of all the possibility for women, who can't pay for private schooling, to get a job in a context still deeply marked by a gendered division of work: even if in time of crises the employment of women in the labour market is more common, the general perception is that the male remains the main breadwinner, and the care for children (and elderly people) remains a feminine duty. Some of the women we are talking about, moreover, are women who for various reasons are living alone with their children. In this regard some of the migrants' need are the same as for many Italian families. For migrant women the lack of access to public schooling for their children, and the consequent difficulties in finding a job, may result in the loss of the permit to stay. This is because the attainment of this document is often strictly connected to the holding of regular work, which is impossible to achieve if you always have your child with you. For Italian women (mainly those who live alone with their children) the possibility to leave their child for some hours per day in a safe place while they go to work automatically increases opportunities to achieve a decent standard of living. The starting point : Many years ago a woman from Capoverde who had emigrated to Palermo, Zenaida Bonaventura, began to help some migrant women from Ghana who were her neighbors and who she saw going to work every morning, taking their very young children with them. She too had 3 children, and she was raising them alone without any family networks and social support. For this reason she decided to help these women living the same situation by taking care of their children too: "leave them here", she said, "I can care for them until your return". In 2003 she founded an Association called Casa di tutte le genti; the history of which thus began with a woman who recognized the needs of other women for the simple reason that she too shared the same need.
History and evolution: Since its beginning, an increasing number of women from different countries have joined this project, pooling their time, experiences, differences and varied ways of being mothers; taking care in turn of the children of others, and thus permitting each woman to go to work having left their children in a safe place. The first self-organized nursery was set up in a little apartment in the center of Palermo but when the number of children grew to more than 30, Zenaida had to move the school to a bigger space. The experience was funded with parents' efforts and the only place big enough that they could afford at that time was a garage. Many volunteers, however, including professionals such as a psychologist, followed all the activities of the initiative. After a short while, police officers were obliged to remove these mothers, children and professionals from the garage for sanitary reasons. However, no alternative was given by public institutions even though many Italian women, sent by social services in contact with Zenaida's Association, had joined the experience. The school was again moved to an apartment, though police officers soon sent the association away from that space after a complaint came from an inhabitant of the building. In the meanwhile, many projects that Zenaida had presented to the public administration had never been approved. Mothers thus began to look for other kinds of help, asking public schools and churches about the possibility to host their school. The Municipality of Palermo offered them a place, but one that was situated far away from the district where women lived and worked, and who considered it a basic necessity to remain in a specific part of the city.
How it works: At the moment the school, Casa di tutte le genti, is being hosted in the Waldensian Institute where there is already a nursery and a primary school as well as a center for migrant families and children. Mothers and children of the association have thus in this moment a large and well equipped space for conducting their activities. Even if this can't be a definitive solution, the fact of being inside an institute were there are other schools and families provides a new form of support to this experience. Currently the association, which is supported by the Waldensian community and by a group of mothers whose children attend the Waldensian Institute, is negotiating, with the municipality of Palermo, the possibility of having a public space for the school. This open dialogue could become an occasion to place the importance of care at the center of public discussion . In the meantime, parents are asked to pay an annual fee for the children but, since everyone cannot afford to give their financial support, some parents work there as volunteers. For Christmas, the association printed calendars containing images of the school and sold them for the financing of activities. It also organizes public parties for not only the collecting of financial support but also to make well known the initiative in the city. Casa di Tutte le genti is now also caring for some children of the Waldensian school at the end of the day's lessons. Some of the children's mothers attending the Waldensian school offer voluntary contributions in the creation of some infancy workshops. The psychologist also continues to offer her support.
The risks faced: One of the main problems for this kind of project is to fulfill the health criteria with regard to the quality of the spaces and, above all, to the preparation of food which they offer as a canteen service. An implicit risk is one of isolation, from the context of the city, especially if the experience involves almost only migrant families. For both these reasons it is fundamental to create links with public and private bodies which can give different forms of support.
The main benefits: Socialization and revaluation of widespread needs of which solutions are usually delegated to private strategies; facilitation in the access of women to the labour market; building community and sharing of a common project; diffusion of an anti-racist and solidarity culture.
Success factors: Recognition of a common need; solidarity between women and families of different national origins and culture; capacity to engage sensitive private bodies.
Future Perspectives: Consolidation of the existing project but in a public space; conducting a public battle to make the theme of child care central in the political debate in the city.
KEY FACTS
Holding Organization: Casa di tutte le genti Status: Association Financing: Parents' annual fee; Voluntary collaborations; organization of social events, such as parties, dinners, concerts; production of small object for sale, such as calendars with the photos and the history of the experience. People involved in the project: about 40 families of many different national origins Public Partners: No. Negotiation in act Private partners: Waldensian Institute "La Noce" of Palermo Creation Date: 2003 Sources & Links/contacts: casadituttelegenti à libero.it
ITALIANO:
La Casa di tutte le genti
Un'associazione di donne provenienti da diversi paesi che mettono insieme le loro risorse per creare un asilo collettivo e autogestito destinato ad accogliere bambini dall'età di pochi mesi ai dodici anni in un contesto di strutturale inadeguatezza dei servizi pubblici.
L'idea: Superare la manncanza di servizi pubblici per l'infanzia condividendo i bisogni e mettendo insieme le risorse
Contesto: Lo scenario è quello della città di Palermo che conta 600.000 abitanti ed è caratterizzata da una forte polarizzazione economica e soprattutto sociale, con importanti sacche di povertà, e da una carenza cronica di servizi di welfare. In questa città molti bambini da 0 a 3 anni rimangono fuori del circuito delle scuole pubbliche, perché non ci sono posti sufficienti per tutti. Questo problema limita in primo luogo la possibilità, per le donne che non possono permettersi di pagare le scuole private, di ottenere un posto di lavoro in un contesto ancora fortemente segnato da una divisione di genere del lavoro: anche se in tempo di crisi l'occupazione delle donne nel mercato del lavoro è più frequente, nella percezione comune gli uomini restano i principali "procacciatori di risorse", e la cura per i bambini (e gli anziani) rimane un dovere femminile. Alcune delle donne di cui stiamo parlando, inoltre, sono donne che per vari motivi sono rimaste da sole con i loro figli. In questo caso, alcune esigenze e alcuni bisogno delle famiglie migranti sono gli stessi di molte famiglie italiane. Per le donne migranti la mancanza di accesso alle scuole pubbliche per i loro bambini, e le difficoltà conseguenti nel trovare un lavoro, possono comportare la perdita del permesso di soggiorno, perché il possesso di questo documento è spesso strettamente legato al possesso di un lavoro regolare che è impossibile da ottenere se si ha un bambino sempre con sé. Per le donne italiane, soprattutto se sono sole con i loro figli, la possibilità di lasciare i bambini per alcune ore al giorno in un luogo sicuro per andare a lavoro, migliora notevolmente la possibilità di ottenere uno standard di vita decente.
Come tutto è cominciato: Molti anni fa una donna di Capoverde, Zenaida Bonaventura,immigrata a Palermo, iniziò ad aiutare alcune donne migranti provenienti dal Ghana che erano sue vicine di casa, e che ha visto per mesi andare al lavoro ogni mattina, portando i loro bambini, anche molto piccoli, con sé. Anche lei aveva 3 figli che stava crescendo da sola, senza reti familiari e di sostegno sociale. Per questo motivo ha deciso di aiutare queste donne che vivevano la sua stessa situazione, prendendosi cura anche dei loro figli: "lasciateli qui", aveva detto loro, "Posso accudirli fino al vostro ritorno". Nel 2003 ha fondato l'Associazione "Casa di tutte le genti", la cui storia ha avuto quindi origine da una donna che ha riconosciuto la necessità di altre donne che condividevano con lei lo stesso bisogno.
Fasi e sviluppo dell'azione: Da quell'inizio, un numero crescente di donne da diversi paesi hanno aderito a questo scambio di esperienze, di tempo, di differenze e di diversi modi di essere madri, prendendosi cura a turno dei figli degli altri, e permettendo in questo modo ad ogni donna di andare a lavorare lasciando i bambini in un luogo sicuro. Il primo asilo autogestito è nato in un piccolo appartamento di un edificio nel centro di Palermo, ma quando i bambini sono diventati più di 30, Zenaida ha dovuto spostare la scuola in un posto più grande. L'esperienza è stata sempre finanziata con gli sforzi dei genitori, e l'unico posto che queste famiglie potevano permettersi in quel momento era un garage. Molti volontari, tra cui dei professionisti come una psicologa, hanno comunque sempre seguito tutte le attività. Dopo poco tempo, però, la polizia ha allontanato le madri, i bambini e i professionisti da quel luogo, adducendo motivi sanitari, ma nessuna alternativa è stata data da parte delle istituzioni pubbliche, nonostante il fatto che, nel frattempo, molte donne italiane, anche inviate dai servizi sociali che erano entrati in contatto con l'Associazione di Zenaida, si erano unite all'esperienza. La scuola è stata così nuovamente spostata in un appartamento, ma gli agenti di polizia hanno mandato via l'associazione anche da questo posto, dopo la denuncia di un abitante del palazzo. Nel frattempo, molti progetti che Zenaida aveva presentato alla pubblica amministrazione non era mai stati approvati. Le madri hanno così cominciato a cercare altri tipi di aiuto, chiedendo alle scuole pubbliche e alle chiese la possibilità di ospitare la loro scuola. Il Comune di Palermo ha offerto loro solo un luogo situato lontano dal quartiere in cui le donne vivono e lavorano, mentre la necessità di rimanere in una parte specifica della città è considerata da queste famiglie una necessità basilare.
Come funziona adesso: In questo momento, la scuola "Casa di Tutte le Genti", è ospitata presso l'Istituto Valdese di Palermo, dove già si trovano una scuola materna ed elementare e un centro di accoglienza per famiglie e minori stranieri. Le madri ed i bambini dell'associazione hanno quindi per il momento un posto grande e ben attrezzata per lo svolgimento delle loro attività, ma questa non può essere una soluzione definitiva. Il fatto di essere inserita in un istituto dove ci sono altre scuole e famiglie ha comunque dato un nuovo tipo di supporto a questa esperienza. In questo momento, l'associazione, sostenuta dalla comunità Valdese e da un gruppo di madri di bambini che frequentano l'Istituto Valdese, sta negoziando con il comune di Palermo la possibilità di avere un luogo pubblico per la scuola, e questa negoziazione aperta può diventare un'occasione per mettere al centro di una discussione cittadina l'importanza della cura come una questione pubblica nel frattempo, i genitori pagano una retta annuale per i bambini, ma chi di loro non può permettersi di dare un supporto economico può contribuire aiutando come volontario nella gestione della scuola. L'associazione ha stampato a Natale diversi calendari con le immagini della scuola e li ha venduti per finanziare le attività. organizza inoltre feste pubbliche per raccogliere fondi e per fare conoscere l'esperienza in città. La Casa di tutte le genti sta anche accogliendo alcuni bambini della scuola Valdese dopo la fine dell'orario di lezione. Alcune madri di bambini che frequentano la scuola valdese offrono collaborazione volontaria per costruire dei laboratori per l'infanzia e la psicologa continua a prestare gratuitamente la sua opera.
I rischi affrontati: Uno dei principali problemi che esperienze come questa devono affrontare sono i criteri igienico-sanitari che riguardano la qualità degli spazi e soprattutto, qualora offrano un servizio di mensa, la preparazione del cibo. un rischio implicito è poi il rischio di isolamento rispetto al contesto generale della città, specie se l'esperienza coinvolge soprattutto famiglie migranti. Per entrambe queste ragioni è fondam,entale creare relazioni con enti pubblici e privati che possano fornire diverse forme di supporto.
Principali benefici ottenuti: la socializzazione e la rivalutazione di esigenze e bisogni diffusi le cui soluzioni sono di solito delegate alle strategie privatistiche; la condivisione di un progetto comune; la diffusione di una cultura antirazzista e della solidarietà.
Fattori di successo: Riconoscimento di un bisogno comune; solidarietà tra donne e famiglie di diverse origini nazionali e culture; capacità di coinvolgere enti privati sensibili
Prospettive future: Consolidamento dei progetti esistenti ma in un luogo pubblico; avvio di una battaglia pubblica per porre il tema della cura dei bambini al centro del dibattito politico
KEY FACTS
Organizzazione responsabile: Casa di tutte le genti Status: Association Finanziamento: Retta annuale dei genitori; collaborazioni di volontariato; organizzazione di eventi sociali, come feste, cene, concerti; Produzione di piccoli oggetti per la vendita, come i calendari con le foto e la storia di questa esperienza. Persone coinvolte nel progetto: circa 40 famiglie di diverse origini nazionali Partners pubblici: No. Negoziazione in corso Partners privati: Istituto Valdese "La Noce" di Palermo Data di inizio: 2003 Sources & Links/contacts: casadituttelegenti à libero.it