Auteur : Claudia Coimbra - Publié le : 2013-08-26 14:11 -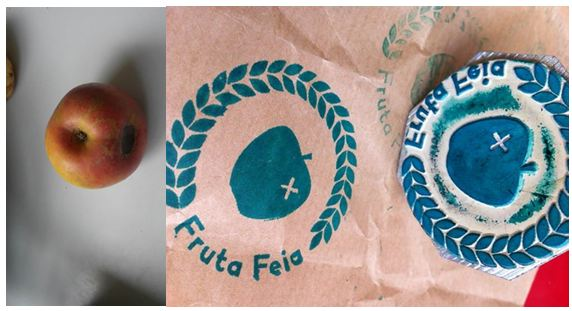 City: Lisbon, Portugal

Projecto Fruta Feia ("Ugly Fruit") aims to minimise the social and environmental impact of food waste. The idea is to channel all rejected fruit and vegetable products to consumers that do not judge the quality of the product solely on appearances.
Photos courtesy of "Fruta Feia"
Context
About half of the food produced in the world is not used. Waste occurs along the entire food chain and the reasons for this are varied: models of intensive production, inadequate storage and transportation, adoption of stringent expiry dates and promotions that encourage consumers to buy in excess. One of the causes leading to this food waste is the preference of large-scale distributers of visually perfect fruits and vegetables, in terms of colour, shape or size. This selection criteria results in about 30% loss compared to what is produced by farmers. Besides the moral issues that this may raise, this attitude leads to the use of unnecessary resources for production and development, such as water, arable land use, soil contamination and / or depletion and / or deforestation and energy expenditure. Despite several existing measures aimed at reducing food waste, for instance through the donation and distribution of surplus food by supermarkets and restaurants in Portugal, there is still the need to confront the tonnes of food products that are not accepted for eventual consumption.
Objective
"Fruta Feia" is a project that aims to be innovative in finding a solution for an existing problem in the current market: to reverse a consumption trend and standardisation of fruits and vegetables that has nothing to do with safety or food quality. It aims not only to help the farmers involved in this process, but to make more efficient and sustainable the entire structure of human, environmental and energy resources involved, appreciating the fruits and vegetables formally considered "inadequate" and that, consequently, have no place of sale on supermarket shelves.
In a society where there is increasing poverty and hunger, the project aims to combat the "ugly fruit" market inefficiency, creating a brand and a movement that can change the default attitudes in consumption, making them more just and socially responsible. The goal is to develop this specific market so as to create value and combat waste. The following belief is promoted by all the team involved in the implementation of the project: "beautiful people eat ugly fruit".
Project Targets
Farmers who fail to sell fruits and vegetables formally considered "inadequate";
Consumers are able to consume local and good quality products at a price lower than the products currently marketed in retail outlets;
People are made aware of the social and environmental aspects of food waste.
Operating model
The project promoters of "Fruta Feia" utilise a model of 'Consumer Cooperative', because it is more economical, creates loyalty among consumers and fosters a sense of involvement in relation to the development and objectives of the project.
After establishing protocols and partnerships with medium and large farmers to allow the purchase of fruits and vegetables that are not calibrated, "Fruta Feia" was launched in selected places, raising awareness among local residents, restaurants and other stakeholders. This sharing of information attracted consumers, interested to become part of the cooperative, through the payment of fees - an important prerequisite for involvement and loyalty to the cause. These members are also crucial because they go beyond the nuclear family, i.e. they include playschools, schools, restaurants and other businesses (e.g. producers of jams or preserves). In return, these consumers get these products at a much lower cost compared to that of other retailers or stores.
Once a week, at a fixed location (to avoid energy expenditure in transport and rental costs for space) baskets of seasonal vegetables and fruits are distributed, which could not be sold on the conventional market, but which fit all production standards required.
This first operational model is intended to be implemented at the local level, in Bairro dos Anjos, Lisbon. Following on from this will be aims to replicate in other districts of Lisbon and elsewhere in the country, with the support of local organisers. In the second phase, involving small companies, schools and restaurants, "Fruta Feia" will be replaced by a service "Vendas por Grosso", where the quantities obtained will be greater.
Sustainability
The idea is realised through the establishment of a non-profit, nationwide consumer cooperative. It will be a space that is open to partners, one day per week after work. The products in question are within the safety standards required by State legislation, to the extent that producers will be involved professionals. Only fruit with cosmetic defects and / or no runoff will be considered a product of "Fruta Feia". These fruit and vegetables will be distributed in the form of a basket. The number of baskets will be ordered in advance and made known to farmers, in order to ensure that the amount of fruit and vegetables that reaches the cooperative is exactly the same as that desired by the membership. This avoids extra logistic and storage costs and eliminates the possibility of food waste.
The project "Fruta Feia", being a cooperative, establishes a set of associated guarantees with its membership loyalty fee, and enables the continuity of the project. The fact that their products do not meet the parameters required by major retailers classifies them as "second choice", i.e. although the quality is in fact the same, the price is much lower. The revenue from the sale of the fruit and vegetable baskets allows producers to be paid, thus benefiting from an unexpected profit. The sale also pays transportation costs and other expenses associated with the distribution and delivery, and raises awareness of extending the network to other parts of the city and country. In the neighborhood of "Bairro dos Anjos", Lisbon, the project already has 100 members and a handful of producers willing to participate in this action, hopeful that this is a possible answer to losses incurred. The pilot project will be easily replicable in other regions of the country, through local offices that will receive 50% of revenues derived from the sale of horticultural products. This advantage will act as an incentive to expand the concept of "Fruta Feia".
Although there are other projects that attempt to address this issue of food waste, they typically focus on consumers, sellers and restaurants, or those initiatives related to alternative consumption approaches look to small farmers and / or organic products. The "Fruta Feia" team act where waste is often greatest in the food chain, i.e. in medium and large producers.
"Fruta Feia" also won the second prize of the competition Ideas of Portuguese Origin ("Ideias de Origem Portuguesa"), sponsored by the Calouste Gulbenkian Foundation, which allowed them to put together a start-up budget of €15,000, though still not enough to cover the necessary fees. Currently, the team is analysing other possible avenues for funding to achieve an amount necessary to start the local project, estimated at €25,000 in total. According to its business model, this value would be repaid over three years, after which "Fruta Feia" could start to generate its own income required for the expansion of the concept.
The Team
The belief that it is necessary, desirable and possible, but especially for change in the paradigm of consumption in today's Western societies, the team involves people that offer all the required technical assets and who, above all, believe in the project.
The team consists of a core group composed of three engineers: Isabel Soares, Environmental Engineer and Master in Renewable Energies, living in Barcelona for 6 years. Has professional experience in implementing and managing projects in the areas of environment and energy, and experience as a member of a self-managed cooperative of fruits and vegetables. Responsible for the idea and, presently, for the comprehensive management of the project;
Francisco Gonçalves, Environmental Engineer, postgraduate in Sanitary Engineering, currently collaborates in the Municipal Energy-Environment Lisboa E-Nova, coordinating technical and financial projects related to urban management. In "Fruta Feia", he will be responsible for partnerships with other initiatives in the area of Lisbon and to present the project to potential donors in the future, be they national or local.
Inês Ribeiro, Ph.D. in Mechanical Engineering, is a researcher at IST in the area of optimising economic and environmental costs of products and industrial processes. She is responsible for the design and optimisation of the modes of transport, of the farmers and their products, to the Cooperative.
Since the project involves matters outside Engineering, but which are essential to its growth and success, the team also has the support of a designer, a jurist and an IT expert.
Added value
1. Cooperative Food Consumption 2. Targets a market of local produce otherwise wasted by medium and large producers. 3. Fixed points of weekly distribution. 4. Low initial investment. 5. No fixed leasing costs and storage. 6. Low shipping cost. 7. High capacity to engage and retain consumers through quotas. 8. Communicates a cause. 9. Economically self-sufficient and unlimited growth.
Aspects to consider
The project required meetings with members of the Confederation of Farmers of Portugal (CAP) and the National Federation of Producer Organisations (FNOP) to clarify the modes of organisation taken by producers to deliver their products to supermarkets. Legal confirmation was also necessary to establish that the normalisation of the current product is not a legal obstacle to the distribution of other products, since the sale of non-calibrated fruits and vegetables can be sold in bulk, adhering to the Category II.
Steps for replication
Establish a network of contact farmers in the region who do not find an alternative for disposal of non-standardised fruit and suppliers of the cooperative.
Gather a certain amount of partners and consumers who do not judge the quality of the fruit, interested in purchasing products at a low price. The partners need not be individuals, provided that it undertakes to acquire a number of baskets in order to ensure the proper disposal of products.
Find a physical space where weekly baskets of seasonal fruit and vegetables can be distributed to the partners or consumers.
Contacts and other links
http://vimeo.com/62579290
http://frutafeia.blogspot.com/
https://www.facebook.com/FrutaFeia