Auteur : Louise Hain - Publié le : 2013-07-15 22:36 -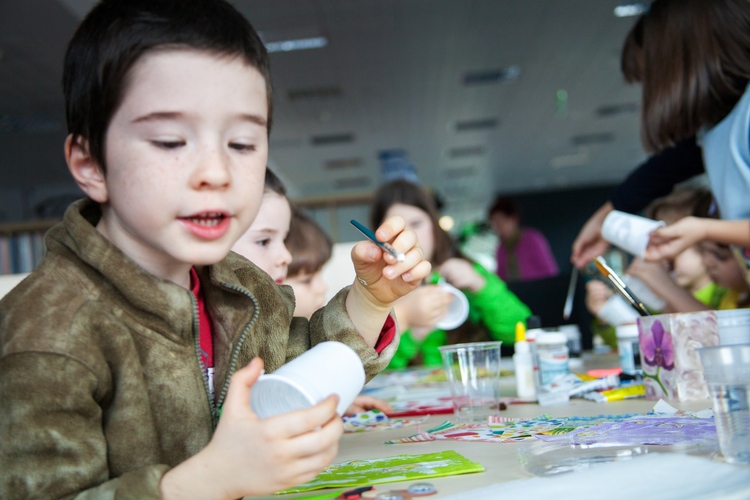 City: WORLDWIDE

HacKIDemia is a mobile intervention Lab that enables children to learn by doing and playing during hands on workshops around new technologies, science and art.
Photo from Hackidemia
The idea
"Hackidemia is a mobile invention lab that enables future changemakers to access and create a hands-on STEAM education (Science/ Technology/ Engineering/ Art/ Mathematics) that will enable them to solve specic challenges by developing and testing creative solutions and physical artifacts. School by school, this will create a new learning model for sciences, art and technologies and prepare the next autonomous generation."
The local context
"With the increasing number of students and the structural incapacity of training and profesional insertion the next generations of young people will have to invent their jobs and be able to gather independently the necessary knowledge and practice. In Europe roughly 10 to 13% of college and university students graduate with degrees in one of the natural sciences. However students who participate in science clubs and competitions at least a few times a year are 50% more likely to select a STEM-related career plan once in college than those not participating in such activities. By combining science, technology, storytelling and art, HacKidemia leverages creative thinking to motivate and inspire a generation of future independent researchers and propose a new learning-by-doing model that could be integrated in the traditional pedagogy."
How does it work today?
2 types of activities are being performed: 1) Workshops More than 3500 children and 300 mentors have been trained in more than 40 workshops in 10 cities all over the world. Through design hands-on and experiential activities where language barrier is eliminated, participants from underprivileged background can learn in an interactive way and develop their ability to become change-maker in their community. 2) Tool-kits and training for mentors/ parents The idea is to give mentors instructions and tools, learning materials and assessment guidelines, coaching and activities proposal for classroom integration, project based learning methodology and other knowledge resources to help them solve identified challenges and needs
Added value of the project and making resources available
Increase children's interest in Science, New Technology and Art at an early age and lower the barrier of entry to these fields for underprivileged children and minorities.
Give these children the chance to understand and create solutions for problems in their local environment (solar panels, water filters, air pollution filters)
Introduce creativity and arts into STEM (Science, Technology, Engineering and Math) educational activities and adapt them for girls and underprivileged children
Provoke a dialogue and reflection of the importance of civic concepts/awareness discussions
Create a resources and tool-kits for community of mentors and parents
Empower older participants to train new participants and present their results at the end of sessions
Introduce children to latest technologies of rapid prototyping and scientific design (3D printing, micro-electronics, programming, robotics, crafting, biotech, physics)
Provide opportunities for local change makers to run workshops in schools to support themselves by transferring knowledge.
Work on new policies design and international collaboration at all levels.
Create new jobs and career opportunities for children and mentors
Empower local entrepreneurial thinking, creating value for economy
Prepare the next generation of leaders to approach human challenges through creative technical solutions
Sources and links
http://www.hackidemia.com Interview at the Open World Forum Interview at the Maker Fair in Roma First Hackidemia in France Contact: Stefania DRUGA
Other valuable projects
MOBILE SCHOOLS "Mobile School NPO is a Belgian organisation dedicated to helping street children throughout the world. Mobile School focuses on two target groups: Street children and the street workers who engage with them in informal educational activities. Under the motto 'If a child cannot come to school, we will bring the school to the child', mobile school was created. This moving blackboard with hundreds of educational games makes it possible for street workers to organise educational activities.The materials are designed for mobility, adaptability, durability and resistance to theft." http://www.mobileschool.org/en