Auteur : Lorna Muddiman - Publié le : 2013-05-15 13:54 -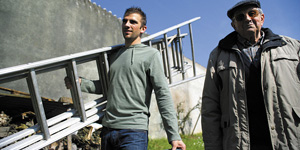 Intergenerational solidarity housing initiatives enable young students to be hosted cheaply by seniors in exchange of a small presence and services that can in no way however be a substitute for professional care services.
Photo courtesy of Timo Stukenberg, study-in.de
Examples
Homeshare international: Homeshare is the exchange of housing for help. It recognises that people, young and old, are in need and have something to offer at the same time. Homeshare programmes are known to be running in eight countries in Europe, including Belgium, France, Germany, Austria, Ireland, Spain, UK and Italy.
Spotlight on: 'Rooms for help', Germany (website in German)
Low-cost, quality living for youth: Senior citizens who can provide living space and who are interested in contacts to younger generations receive support. Students and trainees invest part of their time in providing help for older people and in exchange receive cost-efficient housing (minimum age: 18).
Instead of charging euros for housing, the 'landlords' receive help in their every-day activities; the scope of the assistance can be agreed by the parties in advance. These gratuitous forms of assistance can vary widely. They might involve household help, gardening, shopping, going for walks or doing things together. Individual agreements can be made. However, no personal care services can be included. The only costs a 'tenant' incurs are ancillary costs such as gas, water and electricity. The 'housing for/in exchange for/with help' initiative exists in several towns in Germany.
Aucun article.
Aucun article.
Links and other sources